Freshman 16
by SC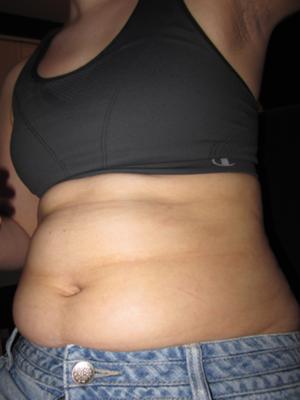 The evidence: My belly rolls and love handles pour over a pair of shorts that fit last summer.
As I entered my freshman year of college last fall, I was not particularly worried about gaining the legendary freshman 15.

I was a three-season athlete in high school and was in athletic shape--I am 5' 6'' and weighed 128 lbs. I did not join an organized team upon starting college and was excited to not have to answer daily to a coach.

During my first semester, I made consciously healthy eating choices and went to the gym at least 3 times each week. Even though I was not working out as intensely as I had in high school, I managed to maintain my weight.

When my second semester brought harder classes, a research position, and more stress, my healthy habits started to deteriorate. I snacked on dining hall cookies and felt ok if I made it to the gym twice a week.

When I noticed my jeans getting tighter, I blamed the dryers in my dorm. My stomach had gotten a little flabby, too, but I was not very concerned: nobody had commented on my weight, so it must not have changed that much.

As the semester progressed, I ate to relieve my emotions: stress from school and work and increasing worry about the excess fat collecting in my hips. And my jeans got tighter.

The morning after moving back home, I woke up and weighed myself for the first time since winter break. The number: 144. I was a bit shocked. I had never wanted to weigh more than 130 lbs, let alone more than 140, and I had gained more than the freshman 15. The belly rolls and love handles that I had neglected were real.

It's been almost two weeks since I've been home. I am now working now to regain the physique I had in high school. My stomach, love handles, and thighs still jiggle, and my jeans and shorts are still tight. However, I am making healthier eating habits and run or go to the gym daily.

By the beginning of my sophomore year in the fall, my freshman 16 will be no more.