Working On Freedom
by Amber
(Ohio)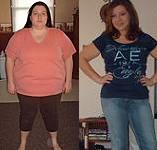 before and current
Lap RNY, April 16, 2007.
Starting wt./BMI: 277lbs/50 Current wt./BMI: 150lbs/27.

I still struggle w/ head hunger and wanting to binge, but my small pouch does restrict me thus far. It is a daily struggle, but I am much healthier and happier at the weight I am now. I struggled at 277 and was fat and miserable. Now I struggle but at least I like the way I look and feel confident about myself again. That is a plus.

I can tolerate most foods and don't dump very often. I take my vitamins although I don't exercise much. All in all, I'm happy w/ my decision and would do it again.

Visit Amber's weight loss blog. It's called, "Working on Freedom!"